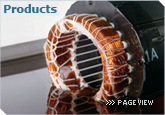 Contact Us:
Address:Rm 1223, Goldfield Industrial Centre, 1 Sui Wo Rd, Fotan, Shatin, N.T. H.K.
Tel:+852 2604 4938
Fax:+852 2606 0854
Email:info@evertoll.com.hk
Product Knowledge
What is Insulating Varnish and Resin?
Varnish

We can define this rather broad group of materials as being either a natural or synthetic resinous polymer that is dissolved or carried in a solvent system
(such that the viscous/ solid polymer can be actually applied on/ in to the electrical application), together with various additives to fine-tune the application properties and also the final properties.
the most important distinction of this group is that the solvent employed is indeed just a carrier and does not form a part of the final polymeric matrix. This means that the solvent must be removed from the final matrix to give the optimum properties.


Air drying


In this group of varnishes the solvent carrier evaporates at room temperature to leave the solid resinous base on the substrate.



Stoving

In this group the solvent carrier is force evaporated by heat and then the resinous base system undergoes a chemical reaction to give the final properties.


Resin


Reactive Resin System that may dissolve in a reactive solvent carrier
Consist of a Resinous polymer in a Reactive solvent.

Resin can be classified as:

Polyester Resin
Epoxies
Why do we need insulating varnish?
Applying varnishes and resin systems is for their electrical insulation properties,
The principal properties of varnishes and resin system.


Dielectric Properties
Physical/Mechanical Properties
Endurance Properties.


Generally best not try to maximize all of these properties
Some of the properties will be totally irrelevant to certain applications, some will be absolutely essential
Eg:
High speed power tool armature
Requires good cohesive strength and good adhesive strength
Also high heat deflection temperature
Microwave transformer
Need good bonding
Need not to be excessively hard, nor to have high heat deflection temperature
Thermal endurance should be high enough
Low /Medium Voltage stator for an alternator/generator
Require good mechanical/thermal properties
Thermal endurance
Resistance properties
Electrical properties


High voltage stator


Good electrical properties
Low tan delta both at elevated temperature and at the high electrical stress levels encountered in use
Compatibility with the other providers of electrical insulation - mica tapes conductor tapes, etc, is essential.
Good physical properties – the resin system is required to bond the whole
system together and stop physical movement that might degrade the other
elements of the insulation system.
There must be good water and chemical resistance – no water uptake which would degrade the overall electrical properties.Effective application parameters to ensure a complete filing of all voids
How to choose?
From the above examples it can be seen that the different applications require different properties from the varnish/ resin system employed.


Thus it is important to investigate what exact properties are important to the final end application that you are undertaking to make and define them in their relevant order of importance, in certain cases it may be necessary to make compromises and it is important that such compromises are made in the right areas


Another very important aspect of defining your requirements that is shown by the above examples is that in all of them the varnish/ resin works in conjunction with other insulation components none being effective without the other.


From this it can be seen that the requirements should be for a complete insulation system. It is thus important that none of the components interact adversely with each other, any such interaction could cause a failure of the overall insulation system.


The compatibility of the different components of your insulation system should be checked and if interactions are found then their ability to adversely affect the overall viability of the system should be assessed.

Such interactions may take place in the varnish's wet state, where the solvent system employed as a carrier for the resin base may affect the other insulation – This type of interaction can be assessed easily but the overall design of the machine must be taken into account in deciding what influence combinations of materials and processing temperatures etc will have.

Take place due to thermal degradation of one component, this may release a decomposition product which can interact with the other components of the system. Such compatibility is less easy to assess but various model techniques have been devised by agencies such as Underwriters' Laboratories in the USA, for example, motorette testing (this is a very long term and expensive technique which reveals mechanical/electrical imperfection as well as), or sealed tube tests (this is shorter and less expensive and really only looks at degradation product interactions on enameled wire when subjected to electrical proof testing but tends to relate ultimately to the Motorette testing)
The constraints on our choice of varnish/resin to be technically driven with:
Mechanical requirements
Electrical requirements
Thermal endurance
Ability to apply the materials to get the above properties
Compatibility of the total system
Other Constrains:
COSHH (Control of Substances Harmful to Health) Regulations – these place obligations on employers to use more intrinsically safe chemical systems.
COSHH
EPA (Environment Protection Act) – This act prescribes certain processes and limits the release of certain substances (such as organic, carrier solvents) into the environment.
It is important that the choices that are made under the terms of your technical constraints are achievable when viewed in conjunction with both of the above legislative constraints and also the final constraint:
Cost – This important constraint can cover both the cost of the varnish/resin and also the cost of application equipment.
Thus by analyzing and defining your overall requirements for your varnish/resin, most probably in conjunction with suppliers of varnishes/resin systems, you will be able to avoid the pitfalls of an unsuitable initial choice for your application